Drowning Impact Awareness Month – Join Now!
Please join us to recognize
THE 11th ANNUAL DROWNING IMPACT AWARENESS MONTH, AUGUST 2014


2014 is the eleventh year that the Phoenix Children's Hospital (PCH) has designated August as Drowning Impact Awareness Month (DIAM).
Arizona is second nationally for child drowning, and every loss has an impact on family, friends, emergency personnel, and the community.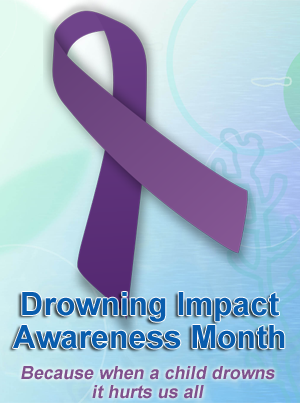 Help distribute purple ribbons to remember the impact of child drownings and to commit to be water safe. You'll see purple ribbons at Phoenix Children's Hospital, local Fire Departments, businesses, schools, churches and on media personalities. More than 100,000 ribbons are expected to be displayed.
What can I do?
Distribute purple ribbons at your office.
Include water safety information in existing newsletters and marketing efforts.
Incorporate Drowning Impact Awareness into activities throughout August.
Encourage water safety discussions.
How do I Join?
Fill out this form or contact us at
Phone: (480) 966-2100
Fax: (480) 966-5577