As a board member of the Drowning Prevention Coalition and founder of the Children's Safety Zone, I'm pleased to report that through the collaborative efforts of health and safety professionals, business leaders, concerned citizens and media attention, the number of life threatening drowning incidents has dropped from 60.1 per 100,000 in 1989 to 10.1 in 2008, per the 2008 AZDHS Water Related Incident in Maricopa County Report.
Our collective efforts have had a significant effect on reducing drowning in the valley but we still have a long way to go. We need your help getting the message out.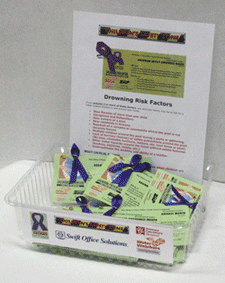 August is the Phoenix Children's Hospital's Drowning Impact Awareness Month and we invite you to participate in spreading the word about Drowning Prevention. Over 100,000 purple ribbons will be distributed by fire departments, hospitals, schools and businesses.
To join this effort, please complete the below form or contact me at (480) 966-2100 or here. We will provide one or more small display tubs containing cards with a water safety message and purple ribbons. Place the tub in a public area to help educate customers and employees about drowning prevention.
Thank you in advance for your consideration and support.
Ed Swift
Swift Office Solutions
DIAM Enrollment  Form